Dr. S. W. Mack Sr. Memorial Scholarship
APPLICATION FORM:
[Download the application form; complete it and name the file yourlastname_SWM_SCHOLARSHIP_APPLICATION_FORM_17fil; email to elvajones@bellsouth.net]
ABOUT THE SCHOLARSHIP MINISTRY…
The S. W. Mack, Sr. Memorial Scholarship Fund is a living tribute to our late pastor.  He served Emmanuel for 32 years prior to his illness and subsequent death, November 27, 1982.  Dr. Mack was a great believer in the value of education and an energetic supporter of young people!
The Tuition Assistance Scholarship was established:                                                                                                          1) initially, to provide contributions toward the tuition expenses of the late Pastor Mack's two sons, S. W. Mack, Jr. and Christopher Mack;
2) and now, to contribute to the undergraduate education expenses of deserving Emmanuel college students       (The Tuition Assistance Scholarship is awarded from interest earned and church allocations).
The Textbook Scholarships were established in 1999 by Pastor Mendez in an effort to assist a larger number of students.  Textbook Scholarship Donors contribute $100.00 or more in the name of a business, a deceased person, a person to be honored, or as a personal contribution (Textbook Scholarships are awarded from textbook fund donations).
Scholarship applications are accepted July 1 – October 31 each year from Emmanuel college students.  Both Tuition Assistance and Textbook Scholarship Awards are made in December for the Spring Semester.  Please contact Dr. Elva Jones should you have questions.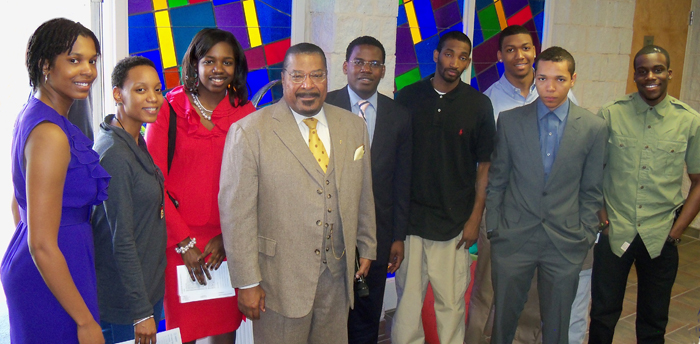 Dr. Mendez and Guest Preacher, Rev. Derwin Montgomery with S. W. Mack, Sr. Scholars – March 2011